15th to 28th February 2011 – Wrestling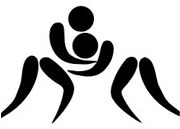 Gouresh and Bhupender have glorified the school's name in sports history by claiming 2nd and 3rd position respectively in Guru Munni Gold Cup 2011, a Wrestling event held at Karol Bagh. Gouresh of Class VIII grabbed the 2nd position in 45 Kg, 14 years category, while Bhupender stood 3rd, by defeating his fellow contenders in 50 Kg, 15 years category. Congratulations to the proud winners!




---
28th February 2011 – Fire-Fighters' Session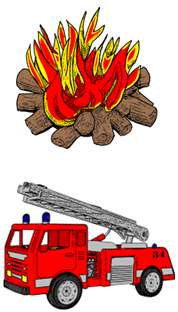 We see fire engine all the time, but have you ever stopped to think about all the things these machines do? Students of Classes I – V had a rare opportunity to see this amazing piece of equipment i.e. a fire-engine that allows fire-fighters perform their jobs and get to fire scenes quickly! Students were excited to take a close look at its personal carrier, tool box and water tanker. The fire engines alarm sent a ripple of excitement amongst the student as they watched its demo.

An organized approach from all of us is demanded in case a fire breaks out. So, a team from Delhi Fire Service, Dwarka headed by Mr. Bhupender Prakash, Sub Officer, Delhi Fire Service explained the fire safety measures. The team demonstrated the usage of different types of fire extinguishing cylinders. It was indeed a learning experience both for the teachers as well as students.



---
25th February 2011 – Talent Hunt Competition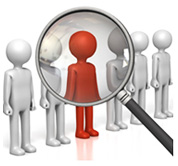 Providing a platform to the budding stars of tomorrow our school organized a Talent Hunt Competition for Classes I – V. The event offered them an opportunity to exhibit their talent in various fields like Vocal, Instrumental, Solo Dance and Group Dance. There were twenty seven participants in all. Students mesmerized and enthralled the audience with their melodious voices and self-directed dance steps. Variety of songs and dances were performed by participants as their classmates cheered them. The head of the school, Dr. Amita Saxena encouraged them and lauded their efforts, wishing them luck for the future while giving away the certificates.

Names of the Winners are:

Vocal


| | |
| --- | --- |
| Name | Class |
| Mridul Rao | IIA |
| Lunminthang Kipgen | IV |
Instrumental
| | |
| --- | --- |
| Name | Class |
| Utkarsh Agarwal | IIA |
| Ritvik Singh | IV |
Dance (Solo)
| | |
| --- | --- |
| Name | Class |
| Harnaaz Kaur | III |
| Lhingjoujam Hangsing | IV |
| Tejas Kalra | V |
Dance (Group)
| | |
| --- | --- |
| Name | Class |
| Apnavi Dhawan | V |
| Ayushi Gupta | V |
| Kashish Sethi | V |
| Priyanka Tyagi | V |
| Riddhi Bhatia | V |

---
23rd February 2011 – Clown Making Activity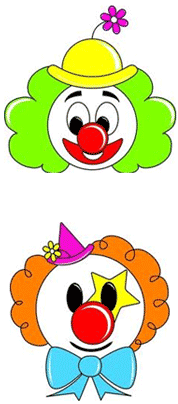 Origami is an art of paper folding that makes paper come to life. There's nothing quite like the joy one gets from transforming a plain square piece of paper into different objects.

'Clown Making Activity' using paper origami was done and colourful caps were made by students of Buds. They also learnt ear bud printing and decorated the clown's dress using water proof inks; Students used attractive colour combinations in making the clown which was appreciated by one and all. They all used these clown faces as masks and had fun.

Students of Blooms made clowns using thermocol glasses and ping-pong balls joining them with toothpicks. Creative use of simple articles like colourful bindis was fascinating for them. This activity helped them to make best use of waste material and brought out their creative abilities.

Students of Class – I made round faces with the help of coloured pastel sheets and shapes of eyes, nose, lips and caps were also pasted to these clowns' faces. Thus they learnt how to make clowns using different colours and materials using their own creativity. All students participated in this activity and enjoyed the activity thoroughly.



---
19th February 2011 – Taekwon-do Annual Grading Assessment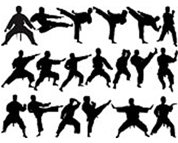 To encourage students to learn the skills of Taekwon-do, an Annual Grading Assessment was conducted in school. Taekwon-do Club students of age groups 6 to 14 years participated in it. The focus of the test was to promote efficient learners to next level in order to make them proficient in varied techniques of Taekwon-do. The test was conducted under the supervision of Mr. Udayan Rai, 4th Degree Black Belt ITF, an International player, examiner and umpire of Taekwon-do. Students were awarded Yellow Stripe-Single Promotion and Yellow Belt-Double Promotion. Their dedication towards this sport was evident from the skills they exhibited during the test. Kudos to the young Taekwon-do Champs!


---
17th February 2011 – Special Assembly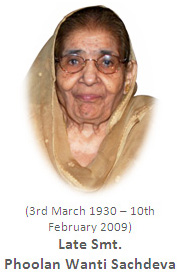 Life is eternal, love is immortal and demise is only a horizon….., and horizon is nothing but the limit of our sight.



A special assembly was conducted to pay homage to Late Smt. Phoolan Wanti Sachdeva, who left this world for her heavenly abode two years ago on 10th February. She was the senior most member of our Managing Committee.

Two minutes silence was observed in the assembly and SGS family prayed to God for blessings so that the departed soul rests in peace!

Although it is difficult today to see beyond the sorrow, may looking back in memory help comfort us tomorrow.




---
14th February 2011 - International Informatics Olympiad (iiO'10)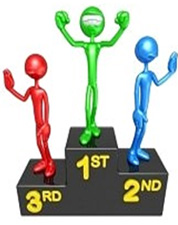 Computers are the technology resource for the future. At SGS, students are encouraged to hone their technical skills. They acquire a platform to set their own pace and to select the level of challenge so that they feel comfortable in this tech savvy world.

International Informatics Olympiad, a test of competence and proficiency in computer science, was organized in collaboration with 'The Computer Literacy Foundation'. Our students brought laurels to the school by winning four gold medals and certificates of merit. We feel proud to state the result of our young achievers:


| | | |
| --- | --- | --- |
| Name | Class | Rank |
| Debashish Panda | IV | 1 |
| Anushka Kulshreshta | IV | 2 |
| Akshita Chaudhary | IV | 3 |
| Tejas Kalra | V | 1 |
| Madhav Lajpal | V | 2 |
| Sanchit Gupta | V | 3 |
| Mohit | V | 4 |
| Riya | VI | 1 |
| Arnav Tyagi | VI | 2 |
| Param Shukla | VII | 1 |
| Dinky Gaba | VII | 2 |
| Yashvardhan Chakraborty | VIII | 1 |
| Taksh Sharma | VIII | 2 |
| Shivam Bajaj | VIII | 3 |
| Kushaagra Tayal | VIII | 4 |
| Aalok Mehta | IX | 1 |
| Lokesh Solanki | IX | 2 |
| Aashish Menghani | IX | 3 |
| Nikhil Sharma | IX | 4 |
| Abhishek Sharma | IX | 5 |
---
10th February 2011 – Stress Management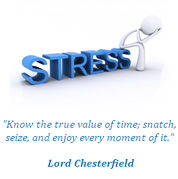 A 'Stress Management' workshop was conducted for students of Classes VII – IX by Ms Rekha Negi who has prior experience of working in the department of Psychiatry, G.B. Pant Hospital and also with autistic children.

The workshop started with an interactive discussion about the meaning of 'stress' and the factors causing stress at different age levels. This was followed by a presentation on how to deal with stress in our lives effectively by analyzing the specific reasons and taking positive actions to minimize their effects. A suggested daily thirty minutes routine should be followed for exercises. Meditation and Yoga, being optimistic, lifestyle modifications and relaxation were also enlisted as some stress busting techniques. During the closure students' queries were taken up, on how to de-stress in critical conditions and become more productive, happy and healthy.



---
10th February 2011 – Eid-e-Milad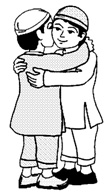 Eid-e-Milad, a Muslim festival is celebrated in memory of Prophet Muhammad and is both, a time to rejoice and a time to mourn, as Prophet was born and passed away on the same day. A special assembly was presented by students of Class IIB.

The assembly threw light on the importance of the festival and how different sects of Muslims celebrate this day throughout the world. On the occasion students spread the message that religion is not to fight for, rather it is to do right, it is to love, to serve, to think and to be humble.




---
7th February 2011 – Vasant Panchami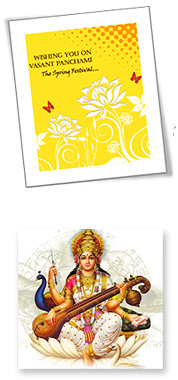 A special assembly on 'Vasant Panchami' was conducted in school by the students of Class IIA. The spring festival is celebrated in reverence of Goddess Saraswati – the goddess of intelligence, joy and happiness.

Students dressed up as celestial beings – Lord Brahma and Goddess Saraswati. Others dressed as angels enacted the story depicting the birth of Goddess Saraswati. How the Goddess received the boon from the Lord to bless people with the gifts of intelligence, dance, music and art was narrated. The assembly helped the student fraternity to understand the significance of the festival and the impact of knowledge in their lives.

Students also performed the ritual of adorning the idol of Goddess Sawaswati with a new set of clothing and jewellery as they offered their prayers.





---