| | |
| --- | --- |
| FIT INDIA MOVEMENT | |



FIT India Certificate of Recognition



Congratulations! Team SGS receives the Fit India Certificate of Recognition from Government of India!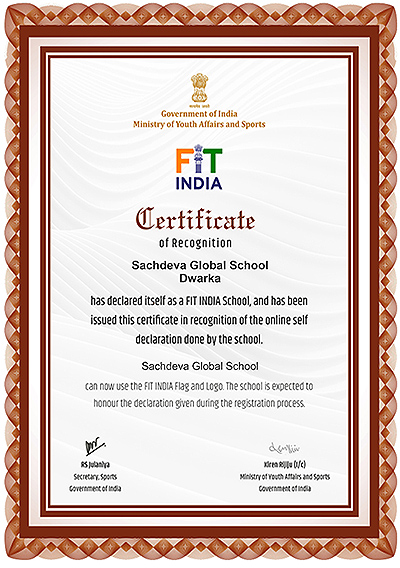 Celebrating "Fit India Movement"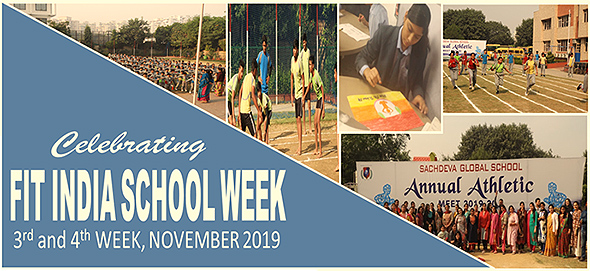 "A Healthy Mind resides in a Healthy Body"- Sedentary lifestyle is not only a challenge with the adults but with the children too. Lack of physical challenges and passive screen time, have resulted in a threat to the holistic development of the students and have reduced their Active field time.

On 29 Aug 2019, the Honourable Prime Minister launched a nation-wide "Fit India Movement" aimed to encourage people to inculcate physical activity and sports in their everyday lives and daily routine. So as to take this mission forward, CBSE has decided that each year THIRD and FOURTH WEEK in November, a total of 06 working days, will be celebrated as "Fitness Week" in all its affiliated schools.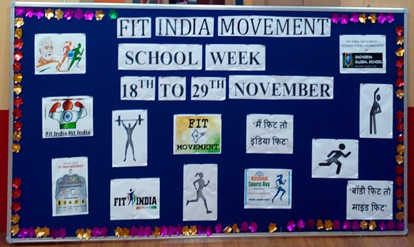 This year we celebrated the Fitness Week from 18-29 November, 2019. To mark the occasion a host of fitness and physically challenging activities were conducted in the school. These activities were planned with the intent to

Include students of all age groups,
Participation of teachers and students alike,
Include activities besides sports to encourage a holistic and healthy lifestyle.



Fitness Week



As a part of the "Fitness Week" the following activities were conducted in our school.


#
Date
Day
Event
1
Nov 18, 2019
Monday
Morning Fitness Drill
2
Nov 19, 2019
Tuesday
Kabaddi – Classes IX-XII (Indigenous Sports)
3
Nov 20, 2019
Thursday
Annual Athletics Meet- Classes: Buds (LKG)-II
4
Nov 21, 2019
Friday
Annual Athletics Meet- Classes: III-XII
5
Nov 23, 2019
Saturday
Fit India Celebration- Indigenous Sports for Teaching Staff
6
Nov 25, 2019
Monday
Poster Making Activity- Classes VI-XII
Theme- Fit Mind, Fit Body, Fit Environment
7
Nov 26, 2019
Tuesday
Morning – Yoga Session
Literary Event- Poem/Essay Writing




Morning Fitness Drill



To begin your day with a sport or a drill will always keep your mind and body active. Therefore we started the Fitness Week with a morning drill. Students of classes III-XII were engaged in a mass execution of fitness drill on Monday morning.








Kabaddi for Classes IX-XII (Indigenous Sport)



Students need to be aware of the various indigenous sports in our country and as a part of our endeavours to help them be rooted to our tradition we conducted a Kabaddi challenge for students of classes: IX-XII



Annual Athletics Meet



Athletic Meet is a pure reflection of sheer skill, hard work, commitment and perseverance of a sportsman dedicate to sports. Sachdeva Global School's Annual Sports Meet, was held on 21 November 2019 (for Buds – II) and on 22 November, 2019 (for III- XII). This is the most awaited event in the school calendar and coincided with the Fitness Week Celebrations this year.

Ms. Sumana Dutta Sarkar, Head of School, was the Chief Guest for the event. She addressed our young enthusiasts and declared the Meet open, amidst a thunderous applause. The bevy of events for the day included
Eating a banana- race,
Circuit race,
Jumping with ball Race,
Lemon and spoon race,etc;
for the juniors and


Heats
Sack Race
Relay race
Camel race
Three legged race, etc;
for the seniors.

The two days saw our young sporting enthusiasts performing with zeal in their respective races. The two day event ended with the declaration of the results and the prize distribution ceremony. Thereafter, the Head of School proposed a vote of thanks and complimented the students, volunteers and the staff for their hard-work and dedication. In a nutshell, the athletics meet was a treat for the spectators, as well as the participants, with the values of sportsmanship and teamwork resonating in the school grounds with energetic vibe and vigor. It was a perfect event to be conducted as a part of the Fit India Movement.









Indigenous Sports for the Teaching Staff



The teaching staff needs be face physical challenges just as our students to keep their zeal and enthusiasm alive. Thus we saw our teaching staff participating in the series of sporting events and indigenous sports on Saturday 23, November 2019. Their enthusiasm and participation in the Fit India Movement was no less than that of our students.





Poster Making Activity
Literary Event- Poem/Essay Writing

The Fit India Movement aims at conduction of activities that intend a healthy mind along with a fit and active body. As part of the Fit India School Week, we conducted a "Poster Making Event"- on the theme- Fit Mind, Fit Body and Fit Environment and a literary Event – to write an Essay/poem on the theme- Fit India School.

Both the events were aimed at the holistic development of the students and to generate awareness about the need for a physically active life.